New mall poster highlights businesses mygooi loves.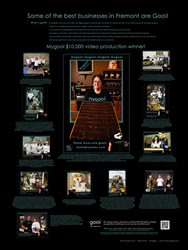 Fremont's gooiest businesses
Des Moines, IA (PRWEB) September 24, 2014
Fremont, Neb., is a gooi city filled with gooi businesses, according to mygooi CEO Paul N. Greenwood.
"Michelle Kaiser won our first gooikaraoke competition, and we loved it," he said. "So many of its businesses exemplify the gooi concept." Kaiser owns Fremont's Alotta Brownies Bakery, named one of the top 10 bakeries in the United States for baked dessert bars and brownies by All-American Cooking magazine.
mygooi has named 10 additional Fremont businesses as supergooi, and photographer Vance Wagener created a poster highlighting them, which is displayed in the Fremont Mall.
"There are many more businesses we could have chosen," said Greenwood.
The featured businesses were selected based on professionalism, the experience and service they offer their customers and the uniqueness of their offerings. "Some are hidden gems and almost all are inventive in their philosophy of customer service," said Greenwood.
Shown on the poster are:
Alotta Brownies Bake Shop: Michelle Kaiser is a very gooi entrepreneur. Her offerings are made from scratch using the freshest and finest ingredients. She is sought for her wedding cakes and corporate function dessert buffets as well as her brownies. Located in downtown Fremont with a satellite store in Omaha. Alottabrownies.com
Blue Yoga: Blue Yoga is a gooi place for people to find their center while enjoying a gooi lifestyle. Yogi Ginger Rosenthal opened her studio to spread the word about the health and mental benefits of yoga. Having fun exploring yoga. Facebook.com/pages/Blue-Yoga/112520398810334
Cudly Massage: Owner Briana Cudly earns her gooi distinction by being multi talented. She has volunteered and worked for the US Olympic Swim Trials in Omaha, raises funds for colon cancer, belongs to the Arlington Volunteer Fire Dept. and coaches a girls softball team, all while running her small business. The benefits of massage therapy are numerous. Cudly Massage helps reduce sports related pains and increase performance. Working with health care professionals, Briana uses massage techniques that have been known to ease headaches, neuromuscular discomfort and everyday strains and pains. The gooiest when it comes to massage therapy! Cudlymassage.com
Yankee Peddler West: One of the city's premier antique, art and used-book dealers grew from an an international love story. Vince O'Connor (a Connecticut lad) met Kerstin Axen (a Swedish lass) on a blind date! When they both had their share of international travel, they settled in Fremont. What an eclectic business they started: Nearing its 20th anniversary, it is one of the biggest used book dealers in the Midwest and has an outstanding presentation of antiques and art work. 402-721-7800. 141 E. 6th St.
Bryson's Air Boat Tours: Takes people up and down the Platte River, catering to individual and group needs. It can deliver adventure but if riders are more interested in the scenery, the ride is peaceful and relaxing. Bryson's has romantic lunch and dinner tours. And lucky riders may see bald eagles, deer, river otters, turkeys, beavers and other wildlife, sometimes just a few feet away. Brysonairboattours.com
Mom's Popcorn: Michael and Rebecca Victor feature 22 gourmet popcorn flavors in sizes ranging from three- to 24-cup bags. They run a small business trying to make it big in the colorful world of popcorn. They are absolutely delish! momspopcorn.net/.
Duncan Chiropractic: Dr Kate Duncan (a very gooi person) is practicing and certified in a number of chiropractic disciplines. She is able to ease pregnancy pain, help with allergies and with colicky babies and works with physicians for sports and auto accidents. Nothing can be more gooi than making someone mobile. duncanchiro.com
DJ's Pet Care: An unusual professional concierge pet service. Dyann Jackson comes to your home and will tend to your pets while you're away. A certified vet technician, she also consults on behavioral problems and administers medication. With over 25 years of experience, she is the gooi-ist person to whom you can trust your loved pets. Djpetcare.webs.com
Backroom Design: A very eclectic shop that has gift ideas for outdoorsmen as well as women's bling for weddings. Jamie has camouflaged toilet paper, trout mailboxes and costume jewelry, and holds art/craft classes. One of the best kept secrets in Fremont, on First Street. Stop by and get your gooi on. backroomdesigns.co/
Blue Bottle Coffee House: The place to go for your gooi coffee. With 28 varieties of tea and a full espresso bar, Blue Bottle is warm and inviting. Students, friends and family make it a center for gooi relaxation and planning gooi fun! facebook.com/pages/The-Blue-Bottle-Coffeehouse-Cup-o-Crazy/414306875601
Full Throttle Cleaning: When the party gets too gooi, these guys can clean it up! They are 100 percent guaranteed; if the problem reappears, they'll be back to make it right. Owner Gabe Mackey handles everything from basement flooding to carpet cleaning to taking care of that spilled milkshake in the car. facebook.com/FullThrottleCleaningRestoration
Wagener, whose VW Photography is the gooi-ist around, has more than 20 years experience and is one of 15 Certified Professional Photographers (CPP) in Nebraska. Vance and wife Diane have their studio on the corner of 3rd and Main St. From commercial to weddings to families and seniors, they do it all. 402-721-8980. http://vwphoto.com
About mygooi
mygooi™ is an energetic brand platform that is digital, creative, disruptive and global. Its portfolio of emerging products sizzle with IC/DC (Innovation and Creativity/Disruption and Community). mygooi's utility and purpose are to bring people together with innovative digital products. Based in Des Moines, Iowa; Stockholm, Sweden; and Chennai, India, mygooi lives where the sun always shines and has as its mission to Go Where The Life Is.™
See mygooi updates and watch gooination grow on Facebook at https://www.facebook.com/mygooi.
Visit our website and download apps at http://www.mygooi.com.
mygooi supports the Cystic Fibrosis Foundation. Check them out at http://www.cff.org.
Media Contacts:
Jon Buscall, CMO
Mygooi
+46768637285 / jonb(at)mygooi(dot)com
Mark Perlman
Mygooi
312-315-0707 / Markp(at)mygooi(dot)com
Richard Greb
Mygooi
847-651-1445 / Richardg(at)mygooi(dot)com